Many Roads Lead to Learning a Foreign Language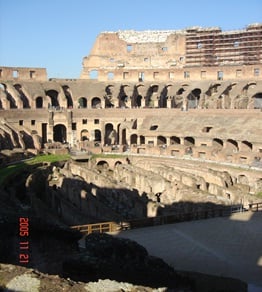 By Ulrike S. Rettig
Several years ago, my friend and I wanted to learn Italian during an extended stay in Rome. (Inside the Coliseum, left)  This was a new language for both of us so we decided to work our way through a 90 lesson audio program during our last months there. Once in Rome, where we had rented an apartment, we felt somewhat confident about dealing with activities in our everyday life; some of which included shopping at the open markets, going to cafés and restaurants, taking a bus or street car, and walking throughout the city. We soon realized that audio preparation was not enough and our Italian reading and writing skills were sorely lacking. Since French (a language that we both speak) kept getting in the way we decided to look for a personal tutor.
In today's ever-expanding world of Internet resources, the opportunity to learn a new language has become even more common. Below are just a few resources language learners can refer to.
Free Resources
Someone with time, determination, and a good sense of how to learn a language can find plenty of material to construct their own language learning program. Facebook pages, Twitter feeds, online newspapers, YouTube videos, community sites, and tandem learning are all useful language resources. Let's not forget about good books and occasional meet ups with foreign friends.
CDs/DVDs, Books and Online Courses
Courses with a specific structure or focus are another option; what you choose may depend on your goals and learning style. If you learn well simply by using audio clips, then listening exercises are definitely the route to go. If you are a strong visual learner, you may want to get a program that has an extensive visual component so that you can see and hear the information at the same time. For some, additional pictures are also helpful; there are learners who also thrive on grammar-based courses and books, while others may only want to practice reading and writing. There are even those who enjoy benefitting from game-based language learning such as www.gamesforlanguage.com, which teaches all four language skills with games and a travel stories.
Classroom courses
For many, classroom courses bring back possibly unpleasant memories of foreign language drills. A group lesson sometimes provides very few opportunities to practice speaking, especially for learners who may feel a little intimidated. On the other hand, many classrooms now use modern technology such as audio-visual aids and language labs which can enhance a student's learning experience. There are numerous language schools that can get you started, often times they can provide you with the framework and discipline needed to continue studying on your own.
Personal Tutoring
As we experienced during our stay in Rome, we saw that personal tutoring can tremendously accelerate learning. A tutor can focus on certain weak points (in our case, reading and writing) and modify homework and class activities to one's particular needs. Most importantly, a tutor can engage you in conversation, correct pronunciation mistakes, and explain grammar points or specific phrases in a way that can really makes sense to you. In Rome we found a wonderful tutor who met with us on an almost daily basis for five months. In addition to our language training, we also learned about Italy's rich and colorful culture.
Foreign country Immersion
Living in a specific country is a great way to be fully immersed in a language. Of course, you will need to do more than just live there, you will need to actively find ways to learn the language and then test your communication skills by dealing with situations as they come up randomly. Using the resources mentioned above while living in the country of your choice is certainly a great way to advance in a language. If such an opportunity is presented to you, it is a good idea to prepare for it with as many resources that will best fit your needs.
About the author
After a teaching career, Ulrike Rettig continued to pursue her interest in applied linguistics. She has authored and edited numerous foreign language audio programs. She is a co-founder of www.gamesforlanguage.com, and, together with her husband Peter, blogs extensively about language learning. You can also follow her on Twitter and Facebook.