5 Classic Movies To Help You Learn Russian
Russian cinema, like the Russian language itself, can be daunting and difficult to make sense of at its best.  Both are incredibly rich and nuanced and complicated, but incredibly rewarding once you put in the effort to understand it.  However, for a beginner linguist as well as cinophile, you may find a four-hour philosophical work by Andrei Tarkovsky to be overwhelming.  Break yourself in with a few of these less esoteric classics—they're entertaining and contemporary, and provide a keen insight to Russian culture and heritage that will help you if you're trying to learn the language.
1. The Irony of Fate, or Enjoy Your Banya!  A light-hearted holiday classic from 1976, The Irony of Fate is to Russian New Year's what It's a Wonderful Life is to American Christmas.  It's a bizarre romantic comedy in which Evgeniy Lukhashin, meaning to propose to his girlfriend on New Year's Eve, instead gets drunk, flies to St. Petersburg, and finds himself in bed with a strange woman named Nadya (as one does).  Not only is this a heart-warmer, but you'll learn about Russian traditions, such as New Year's and the popular bathing ritual, banya.
2. Everybody Dies But Me.  This is a more contemporary film, which follows the lives of three teenagers as they make their way through the trials of coming of age.  Its raw, gritty depictions of sex, drugs, and the psychological abuse inherent in growing up was quite controversial with audiences. In addition to being a realistic and sensitive look at young women, you'll also get a healthy dose of contemporary teen slang.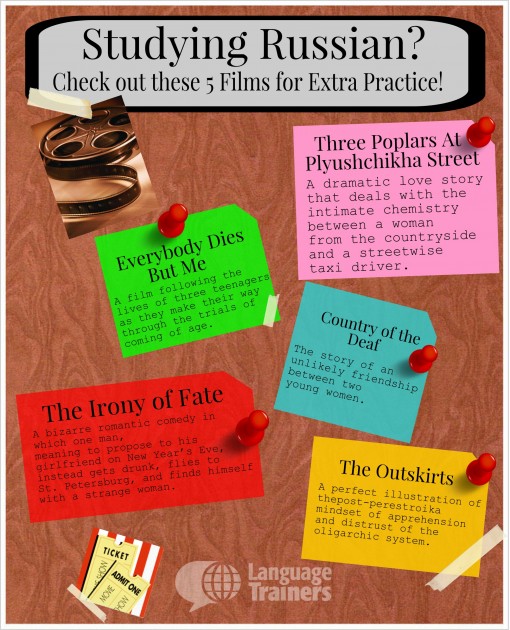 3. Three Poplars At Plyushchikha Street.  A dramatic love story that deals with the intimate chemistry between Niura, an innocent woman from the countryside, and Sasha, a streetwise taxi driver, this Soviet film is extremely sensitive in its depiction of its two main characters through close-up shots and vivid flashback scenes.  As the two realize they  have more in common with each other than they first realized, their short drive becomes a crucial meeting that will define the rest of their lives.
4. Country of the Deaf.  Masquerading as a crime drama, this film is actually a story about relationships, chiefly the friendship between Rita, who needs to pay off her boyfriend's debts to the Mafia, and Yaya, a flamboyant, self-absorbed deaf dancer who slowly draws the younger girl into Moscow's seedy underworld solely because of her need for companionship.
5. The Outskirts.  This film is a perfect illustration of the post-perestroika mindset of apprehension and distrust of the oligarchic system.  It follows the exploits of a band of farmers as they journey across the Urals wreaking bloody vengeance for their land being appropriated.  Watch this if you have an interest in black Russian humor as well as the melodramatic style of the Soviet propaganda films of the 1930s.
Many of these are available dubbed in English, but to truly appreciate the acting and screenwriting, it is best to watch them in the original Russian with subtitles. Dive into the world of Russian cinema, then contact us about our available Russian lessons, or try taking our free online Russian language level test to see how good your current skills are.