5 Kid-Friendly English Course Books to Engage Young Learners
Young learners have the unique and wonderful opportunity to learn language much faster and more easily than adults. However, finding course books that are suitable for children isn't easy: they must be useful and educational, but at the same time be able to pique and maintain children's interest and motivation. If you're a parent or teacher struggling with the decision of which English course book to choose for a young learner, look no further: the five excellent selections here are perfect for children, and will put them well on their way to fluency in English.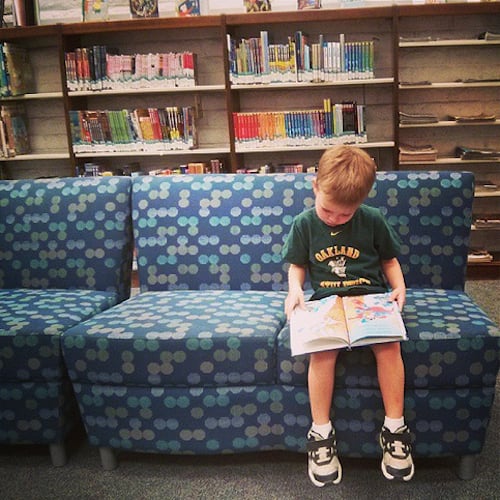 Image via Brendan C / flickr
The Primary Colors Series, Diane Hicks & Andrew Littlejohn
The Primary Colors series consists of short, digestible books that make it easy to track your progress. Inside, they feature a kid-friendly combination of an English language course book, a science textbook, and a comic book. Lessons are quick, colorful, and fun, but still manage to cover important grammatical concepts like verb tense, possession, and adverbs. Given their brevity, they're especially good as homework, or as a complement to other class work. Full review of Primary Colors
Ages: 5 – 10
2. The English Know-It-All Series, Sean Snyder & Sean McClelland
The three books in the English Know-It-All series are built around topics that young students will encounter in school, such as animals, jobs, geography, and cultures. They are designed for learners who already have a decent grasp of the English language, and their treatment of each topic deepens as the series progresses. The Know-It-All series provides several interesting and age-appropriate lessons for kids, with material that is relevant to their lives. Further, it involves an extensive amount of groupwork, thus making it particularly ideal for group classes. Full review of English Know-It-All
Ages: 9 – 12
3. Focus on Comprehension, John Jackman
To specifically address reading and and writing skills, Focus on Comprehension is an excellent choice. It consists of fun and kid-friendly stories, poems, and articles that are typically between 200 and 300 words and are filled to the brim with useful, simple vocabulary. Following each piece, there are a series of questions related to the content that call for a written response. As such, Focus on Comprehension is a perfect complement to grammar-based lessons, as it gives young learners the chance to use what they've learned in real-life reading and writing activities. Full review of Focus on Comprehension
Ages: 7 – 9
Helpful Tip: When teaching children, it's advisable to accompany course books with fun, interactive games, puzzles, and dialogues. Check out the free resources that the Internet has to offer, such as this fun English Accent Game.
4. Painless Vocabulary, Michael Greenberg
The authors of Painless Vocabulary understand that, to a child, nothing could be more boring than trying to memorize long lists of vocabulary. Rather, it's much more interesting to encounter new words in interesting narratives and articles that kids can engage with and discuss. With articles ranging from the Internet to sports to bullying, Painless Vocabulary adopts this approach, thus providing young learners with interesting and relevant articles that entertain them and enrich their vocabulary at the same time. Full review of Painless Vocabulary
Ages: Unspecified, though the topics are most appropriate for learners of middle-school age.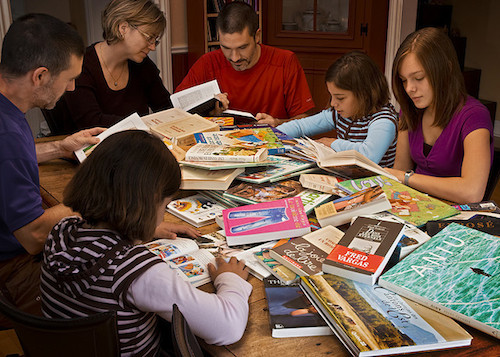 Image via Pierre Vignau / flickr
5. Teaching Young Learners to Think
A lifesaver for language teachers and parents faced with teaching children, Teaching Young Learners to Think offers 80 photocopiable activities and worksheets that come with helpful teaching tips and easy-to-follow lesson plans. The idea of the series is to promote all kinds of analytical and cognitive skills, using the English language as a starting point. In addition to the activities themselves, it contains useful solutions to common classroom problems, such as dealing students with short attention spans. It's highly recommended for both experienced and inexperienced teachers alike. Full review of Teaching Young Learners to Think
Ages: 6 – 12
The challenge in teaching young learners is keeping them interested. These five course books provide an excellent starting point to help your students or children really enjoy the language-learning process. And they'll thank you for it later: they'll be able to enjoy the plethora of benefits that come with knowing multiple languages as an adult.
To see more course book reviews for young learners — or English learners of any age! — click here. But of course, a course book can never replace a real-life teacher, who is armed with years of experience teaching young learners. To help a young student learn English the fastest and most effective way, consult our English-language course and package options.