5 Online Language Training Sites You Can't Miss
Whether you are taking classes or learning a language by yourself, some extra resources will always come in handy to achieve fluency in a short time. Audio recordings, videos, texts, and exercises to practise grammar and vocabulary are all necessary to consolidate your language skills. To help you with this, we have compiled the 5 best online language training sites. They have plenty of materials to help you learn almost any language! Explore them below.
EdX is one of the leading education sites today. All of their courses are taught by universities and cover a wide range of disciplines, from business to philosophy. Though they do not specialise in online language training, they do offer some courses in this field.
Their classes are self-paced and asynchronous. This means that you will have access to the content 24/7, but will not be able to get personalised instruction from a teacher. Still, you will get to practise the four main skills on your own: speaking, listening, reading and writing. The materials are well-designed and varied, so you are sure to find something of your interest.
Having access to EdX's online language training programmes is free of charge, but you will have to pay if you want to receive a certificate of completion to add to your CV.
The American Foreign Service Institute aims at helping people from all over the world learn new languages. For this, they offer a decent online language training platform.
The FSI has mostly audio files, which will be ideal to help you practise your listening and pronunciation skills. There are some texts too, but not as many.
Though the site has not been updated in a long time, there are plenty of materials in many different languages on their site, from Spanish and German to Cambodian and Yoruba. So, even if the language you are studying is not very popular, you are likely to find lots of useful resources here.
YouTube should not only be your go-to place to watch music videos and funny cats. It is also an online language training platform with an incredible amount of resources that can boost your language learning journey immensely. There are many channels that post content frequently with tips and language facts to help you study better.
If you are interested in this type of content, you can follow our own Youtube channel where we post new videos regularly. Do you have to give a presentation? No matter the language you have to use, our 5 tips to give a presentation in a foreign language will definitely help you! Or maybe you need some help with your Italian? Then these 10 tips for students of Italian will come in handy. We also have resources for students of Russian, French, Portuguese, and many other languages.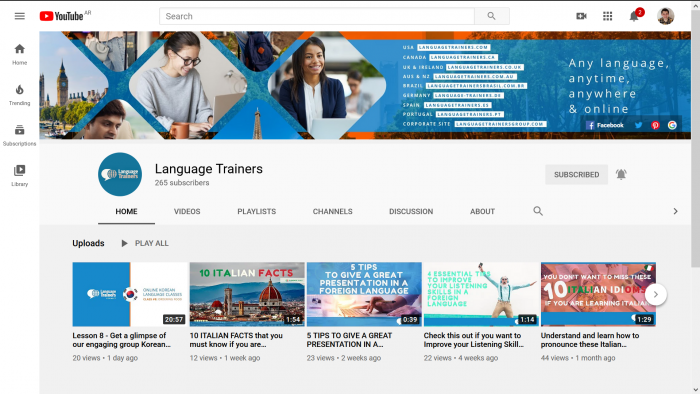 Now, if you are looking for language-specific channels, there are many YouTubers who specialise in different languages. Talk the Streets is a great resource for learners of European Portuguese, for example. And learners of Korean will find plenty of useful materials on Talk to Me on Korean. If you are looking for content in other languages, just use the search bar and plenty of options will come up!
Doesn't it happen to you that you see a new word in your target language and have no clue how to pronounce it?
With Forvo that won't be a problem anymore.
This virtual language training site has an immense database of word pronunciations in almost every language. All their audios are recorded by native speakers, and they tend to have many versions on the platform, so you'll be able to hear different accents.
No matter the language you are learning, if you want to perfect your pronunciation, this online language training site should be on your bookmarks!
Studying new vocabulary can be one of the most tedious parts of learning a new language if you don't do it right. Instead of making you memorise endless lists of words, Anki helps you learn through flashcards.
The name of this online language training platform comes from the Japanese word for "memorisation". This is so because it helps you memorise new words by letting you connect the vocabulary you are learning with different media. By having videos, recordings and photos, the new word will be much more memorable for you and you'll find it easier to recall it when speaking or writing.
Besides having your own personalised deck of flashcards, you can use the ones made by other learners, which will reduce your study time a lot but give you the same results.
To make things better, Anki uses spaced repetition. This means that it will show you the words at different frequencies, depending on how well you know them. The ones you get always right will appear once in a while to make sure you don't forget them. But the ones you tend to confuse will come up repeatedly until you know them well.
Although all these platforms are great tools to aid your learning, nothing can replace a real teacher giving you personalised feedback. Our online courses are ideal for this, since they are taught by native-speaking tutors with many years of teaching experience. Their classes will be adapted to fit your specific needs and the times are totally flexible and can be adapted to your work schedule. Contact us today for a customised language learning experience!