5 Ways To Know You're Ready To Live & Work Abroad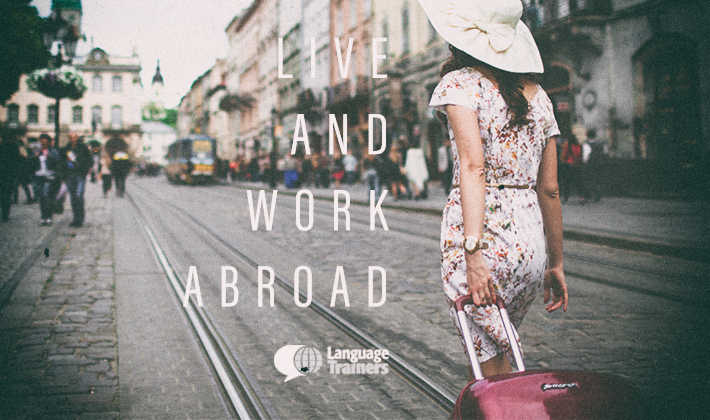 Making the decision to move overseas can be both exciting and scary. On the one hand you're embarking on a cool new adventure, on the other you'll be faced with a foreign culture, language, and way of life that you're not at all familiar with. When it comes down to it, it's best not to take the decision to move abroad too lightly. If you're not prepared for the potential bumps you might encounter, you may end up giving up too quickly before you've had the chance to acclimate. Being an expat isn't easy, but it's also incredibly rewarding (take it from a long-time expat). But if you're not sure you're prepared to take on the expat life, check out these 5 ways to know if you're ready to live and work overseas:
1. You are financially stable
I can tell you from experience that it's NEVER a good idea to move overseas without having a strong financial net to fall back on. Early on in the move is where you'll end up spending the most money, whether it be in a down-payment for a flat rental, investing in new furniture, or shipping all your stuff to another country. Even if you have a secure job waiting for you on the other end, make sure you've saved up a substantial amount so that if something does go wrong you have a cushion that gives you time and space to figure out your next steps. Many expats suggest saving between 30%-50% of each paycheck for one year before you move abroad.
2. You have a solid foundation
Don't move abroad to get away from a bad relationship or because you're running from family problems. While it may give you temporary reprieve, it will cause you a lot of heartache in the long run. Before picking up and moving to the other side of the globe, do your best to make sure your relationships are stable and that you are leaving behind a solid foundation of people who will support you during this new chapter of your life. Eliminate the toxic individuals from your life and hold on to the good ones who truly care about you. Sure, a few of your friends might think you're crazy for packing up and moving to Taiwan, but as long as they are willing to love and support you through it, you'll be glad to have them down the line!
3. You have thought it through
A big mistake that many first-time expats tend to make is to think that all you need is your passport and a plane ticket and everything else will work itself out. Moving abroad without doing any research into the country you're headed to is risky at best. You may get lucky and everything will turn out fine, but why risk ending up in a bad situation because you didn't really think the decision through? Stop daydreaming about living overseas and start planning it. Do tonnes of research into the country you'd like to go to, the visa laws, jobs, quality of life, as well as official languages and major customs. You may discover somewhere along the way that a particular country just isn't for you, but it's better to figure it out when you still have the ability to change your plans than when you're standing shell-shocked on the other side wondering what the heck you were thinking.
Learning a new language before your big move? Take a free placement tests to see how your level measures up!
 4. You are ready to take risks
It might seem counter-intuitive to list this right after telling you to plan, plan, plan, but hear me out. Even if you do a lot of planning, are financially stable, and have the friends and family to back you up, moving overseas can still involve quite a bit of risk. This is something you have to accept if you really want to be an expat. There are so many aspects of a new culture that you have to learn and experience for yourself and no amount of online research can teach you how to deal with some of the challenges of living and working abroad. Do all the research you can, but also prepare yourself to be deal with situations as they come along. Once you're prepared for a certain amount of risk-taking, you're ready to head overseas!
5. You really want it
Choosing to live the expat life shouldn't be done for wishy-washy reasons. Don't do it because you want to make people jealous of your jet-setting lifestyle, or because you think the grass is greener on the other side, do it because you can't imagine living your life any other way. There are plenty of people who love the idea of settling down and doing the 9-5 life, and that's great! But if you are someone who can't imagine anything more exciting than being able to travel and live abroad, then the expat life is for you! And you'll definitely find a way to make your dreams come true.
Are you ready to move abroad? If not, what are you missing from our list of tips? How do you plan to accomplish your goal of becoming an expat?