Songkran: Bring on the Water, Bring on Thai New Year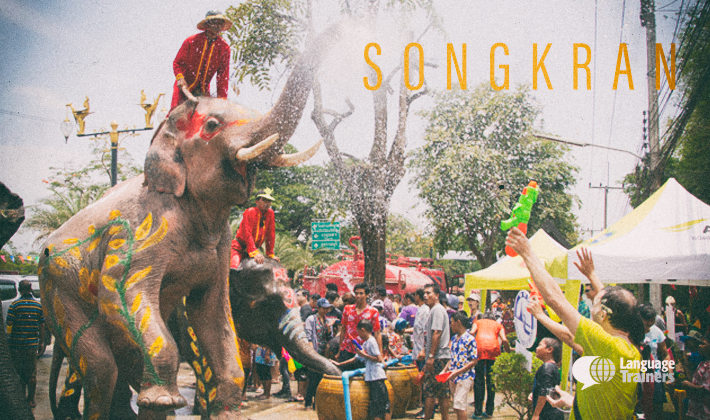 Unlike bringing in the new year in the Western world, the Thai New Year lasts for a total of three days and is celebrated beginning on April 13th every year. While this occasion features a number of events such as visiting family, trips to the temple and the giving of gifts, for many people the main event is a massive street party where people throw water at each other. Sound thrilling? Check out what else is in store for you if you plan on spending some time in Thailand during Songkran, or Thai New Year.
Everyone's Experience
In every city, town and village throughout Thailand people take to the streets during Songkran (the Thai name for this special occasion) and let off steam by hurling water at anyone they meet while laughing and greeting them warmly.
My Experience
When I first experienced Songkran in Bangkok I was completely overwhelmed. Everywhere I went people flung buckets of icy water at me or sprayed me with hosepipes. Before I had even walked to the end of the street, both my belongings and I were soaked through. Despite the scorching hot day, I felt less than impressed as strangers repeatedly approached me and laughed as they doused me with water. The wetter I became the  angrier I seemed to feel, and before long I had abandoned my plans and retreated to my apartment.
For the next couple of years I managed to avoid Songkran completely, choosing to stock up on supplies and spend the holiday relaxing at home. I had decided that Songkran simply wasn't for me, until one year when a friend managed to persuade me to ditch my attitude and join in the fun.
Learning a language? Check out our free placement test to see how your level measures up!
Back on the Front Lines
So there I was, back trying to walk down the street. As I battled my way through the crowds to our arranged meeting point at the top of Khaosan Road, I wasn't exactly feeling in the party mood. However, this time I was armed with a large water gun and ready to go to battle.
My friend greeted me warmly and dragged me into the thickest part of the crowd. As we walked, the people passing by threw water at us and we responded by firing shots from our water pistols. As we weaved in and out of the crowd shooting water at people and chasing those who tried to get away, I suddenly realised I was having fun. The smiles and laughter of everyone around me were infectious, and the Thai people seemed genuinely pleased that I was joining in. Above all else, we had been given permission to behave like children, and the urge to forget our troubles and simply play was very strong.
Can't Beat 'Em? Join 'em.
Like it or loathe it, there is no way of avoiding Songkran in the Land of Smiles, as it is enthusiastically celebrated everywhere in the country. It only happens once a year, and this is the perfect opportunity to interact and have fun with Thai people of all ages and from all walks of life.
Some last bits of advice: Thai people greet each other at this time of year by saying "sabai dee pii mai", which means happy New Year. In addition to wishing them well, don't forget to squirt them with water or cover them in talcum powder. Maybe if you're feeling cheeky, hit them with both. สวัสดีปีใหม่!