4 Iconic German Film Directors You Ought to Know About
From timeless composers like Beethoven and Brahms to famous thinkers like Marx and Freud, many of the most influential historical figures have come from Germany. But other big German names haven't attained the same recognition in the international sphere. If you're not yet familiar with German film directors like Fritz Lang or Wolfgang Petersen, read on to get acquainted with some of the finest filmmakers that Germany has to offer. In addition to exposing you to excellent films, you're sure to score some major points with your German friends and colleagues by knowing the names of the iconic directors who have so powerfully influenced the German film scene.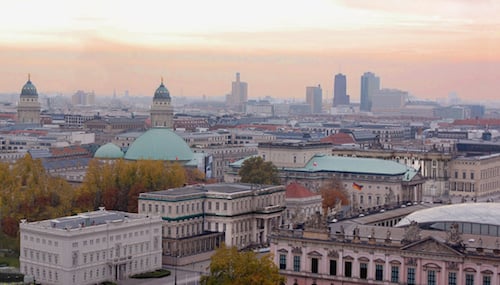 Image of Berlin via Bleppo / Wikipedia
1. Konrad Wolf (1925 – 1982)
Konrad Wolf was one of the most important filmmakers in the German Democratic Republic (i.e., East Germany). Growing up in the midst of the Nazi regime, Wolf and his family moved to Russia when the Nazis took power in 1933, and as such, Soviet film was a great influence on Wolf's work. He served as the President of the Academy of Arts in East Germany until his death.
Recommended film: Solo Sunny (1980) — In Solo Sunny, an ordinary worker abandons her job to follow her passion and become a professional singer. However, in doing so, she runs into some unexpected obstacles. Solo Sunny is considered to be a classic of East German cinema, and won the Silver Bear Award for Best Actress in 1980. It was also the last film that Wolf directed before his death in 1982.
2. Wolfgang Petersen (b. 1941)
Of all the filmmakers on this list, Wolfgang Petersen is probably the most well-known outside of Germany, given that he has directed several English-language films in addition to German ones. His English-language entries include The Perfect Storm and Troy; however, with Germany, he is more famous for his German movies, which have earned him two Academy Award nominations, among other prestigious accolades.
Recommended film: Das Boot (1981) — By far Petersen's most successful film, and one of the most successful German movies of all time, Das Boot is about the Atlantic voyage of a Nazi submarine on a mission to take down British cargo ships. As such, it's chock-full with danger, emotion, and excitement. If you're traveling to Germany, you ought to watch this beforehand if you want to make an impression on the connections you meet on your travels.
Is your German good enough to watch movies without subtitles? Test your skills by taking our free German level test!
3. Rainer Werner Fassbinder (1945 – 1982)
A champion of New German Cinema, Rainer Werner Fassbinder rose to fame in the 1970s, and still stands as one of Germany's most beloved filmmakers. He was also incredibly prolific, directing about 40 films in his 20-year career. His films often explore themes important to German history and collective consciousness, such as the guilt following Hitler's regime, and the state of the nation in a post-Third Reich era.
Recommended film: Ali: Fear Eats the Soul (1974) — In one of Fassbinder's most accessible works, Ali, a Moroccan migrant worker, falls in love with Emmi, who is an elderly German cleaning lady. The film explores their relationship, as they deal with their age difference, as well as their feelings of loneliness. Learners of German are sure to identify with Ali, who himself is trying to learn German and often flounders with some of its more complex grammar points.
4. Fritz Lang (1890 – 1976)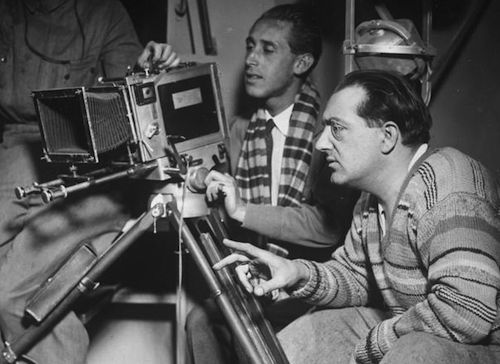 Image of Fritz Lang via Octave.H / Wikipedia
Exceedingly well-known within Germany, Fritz Lang was one of the most influential filmmakers of his time, and received the moniker "Master of Darkness" from the British Film Institute. His career took place during the transition between silent and "talking" films, and his repertoire includes entries in both camps. Lang was rumored to be a stereotypical, monocle-wearing tyrannical German director, who treated his actors poorly and was notoriously hard to work with.
Recommended film: M (1931) — Widely regarded in Germany as Lang's masterpiece, M is a dark, disturbing film about a child murderer in 1930s Berlin. In addition to being Lang's first sound film, it's one of the first procedural investigations in cinematic history, and thus will especially appeal to fans of crime dramas like CSI and Law & Order.
Everyone's heard of Bach and Einstein, but how many foreigners can claim that they're familiar with the works of Fassbinder or Lang? This list of German filmmakers will provide you with an excellent introduction to German cinema, and will provide great fodder for conversations with your German-speaking friends and colleagues. For more German-language film suggestions, check out our complete list of German movie reviews. Of course, the best way to make an impression on your German connections is to speak their language well: check out our course and package options to see how you can best improve your German language skills.