How to Prepare for B2 First (FCE) in 5 Easy Steps
Sitting for an English exam can be a bit intimidating. Especially if we are talking about an internationally renowned test such as the B2 Firsts (formerly known as the First Certificate Exam or FCE).
→Sign Up Now: Free Trial English Lesson With a Native Teacher!←
Based on the Common European Framework of Reference (CEFR) —the most widely trusted standard for describing language skills— B2 First is extremely useful if you are planning to apply to work abroad or apply to international universities.
In this blog, I will tell you how to prepare for B2 First in five easy steps so you can get a top grade and stand out from other people when the time comes to apply to your dream job.
1. Know the content of the test
It's absolutely normal to feel a bit anxious before an exam. But if you make sure you know exactly what to expect from a test, you will see how your anxiety level reduces and your confidence goes up.
The first thing you need to know about B2 First is that it comes in two versions: one for school-age applicants and one for adult learners. Second, like most English certificates, it tests candidates' linguistic abilities in four areas: Reading and Use of English, Writing, Listening, and Speaking.
So let's delve into each of these sections:
2. Study the CEFR level descriptor for B2.
According to the CEFR, passing the FCE is proof that a learner has reached B2, which means that they have an intermediate level in their use of the English language. But what skills are expected from an intermediate learner?
The Common European Framework describes a B2 learner as an independent user of the language. This means that:
You can understand the main ideas from complex written materials even if they deal with abstract topics.
You can interact with native speakers with acceptable spontaneity and fluency.
You can explain your viewpoint on a wide range of subjects, using appropriate arguments and clearly stating advantages and drawbacks.
You can produce clear, detailed pieces of writing on a variety of topics.
Before you take the B2 First exam, make sure you start a learning programme that will allow you to acquire these skills. As we will explain in more detail in section 5, a personalised course with a native tutor is usually the best type of training for international exams, especially for the Speaking and Listening sections.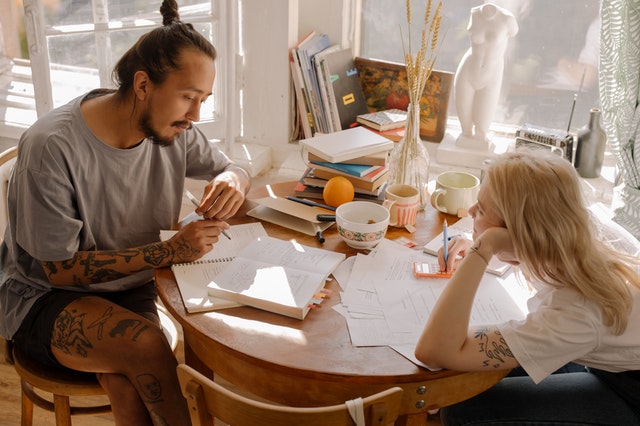 3. Improve your listening and reading skills through passive learning.
In the Reading and Listening sections, you will be asked to deal with different types of language samples; including ads and short stories in the case of Reading, and clips from news shows or presentations in the case of Listening. While completing official mock tests and working with specific preparation materials, there's much more you can do to make sure you will be able to crack these sections. And do you know what the best part is? You don't really have to do any actual studying.
In the field of language learning, passive acquisition happens when you receive content produced by someone else and you just let your brain absorb what you read or hear, letting the information flow over you. If you want to familiarise yourself with the kinds of discourse that you will encounter in the FCE test, for example, you can start by doing in English every language-related activity you normally do in your language. This includes listening to music and podcasts, watching the news, reading magazines, and even revisiting your favourite books in English.
Getting all this exposure might not help you achieve grammatical accuracy, but it will surely improve your listening and reading skills in a wide range of formats.
4. Get used to the British accent.
Considering B2 First is developed and conducted by Cambridge, it comes as no surprise that the Listening section mainly consists of British English. So, if your favourite band is Red Hot Chilli Peppers and you've spent all your life watching American sitcoms on Sony, you may want to get familiar with British English before you register for the First exam. In order to do this, you can:
Check out some of the best British shows available for streaming, such as Fleabag (Prime Video), Queers (BBC), and It's a Sin (HBO MAX).
Listen to audiobooks read by your favourite British stars, such as Roald Dahl's Matilda, read by Kate Winslet, and the Harry Potter series, read by Stephen Fry.
Follow the Empire Spoiler Special podcast, a show that takes you deeper into films than ever before. Analysing all the major plot twists and story points in some of the most famous films of all time, this hugely entertaining podcast aims to mine every last secret from your favourite blockbusters, frequently inviting actors and directors to break down their filmography.
5. Practice speaking with a native tutor.
Being a productive skill that requires spontaneity, precision, and lots of confidence, the Speaking section is the one that applicants dread the most every year. If you want to get lots of conversation practice before the day of the exam, the best thing you can do is look for someone who will be able to spot your strong and weak points and give you expert feedback on your overall performance.
At Language Trainers, we work with native teachers who have years of experience preparing students for the most renowned international exams, including B2 First.
→Sign Up Now: Free Trial English Lesson With a Native Teacher!←
If you contact us now, we will pair you up with one of them for a free trial lesson so you can experience what it feels like to practice your speaking skills with a native speaker of English. All you have to do is tell us about your availability and learning goals, and we'll match you with the best teacher for a completely personalised class.