10 Must-Visit Spots in Japan 
Japan is one of the most popular tourist destinations in the world. With its rich history and culture, amazing food, and stunning natural scenery, there's something for everyone in this fascinating country. In fact, there is so much to see that it may be hard to know where to start!
→Sign Up Now: Free Trial Japanese Lesson With a Native Teacher!←
But don't worry. We're here to help.
Whether you've come to Japan its food, its historical sites, or its unmatched mountain landscapes, here are ten spots that you shouldn't miss.
1. Tokyo Tower
Built in 1958, this 333-meter high structure is one of Japan's most iconic landmarks. It is particularly popular among photographers, as visitors can enjoy panoramic views of the city from the observatory decks on the tower's two levels. Tokyo Tower is also home to a variety of shops and restaurants, making it the perfect place to spend a day in Tokyo.
2. Mt. Fuji
This world-famous mountain is the highest peak in Japan at 3,776 meters, which makes for a very popular spot for climbers and hikers. But Mt. Fuji is much more than a mountain — it is an active volcano that last erupted in 1707. You don't like hiking? Not a problem. Visitors can also enjoy the views of the picturesque landscape from the many lookout points around the mountain. Mt. Fuji is a UNESCO World Heritage Site and is considered one of Japan's three sacred mountains.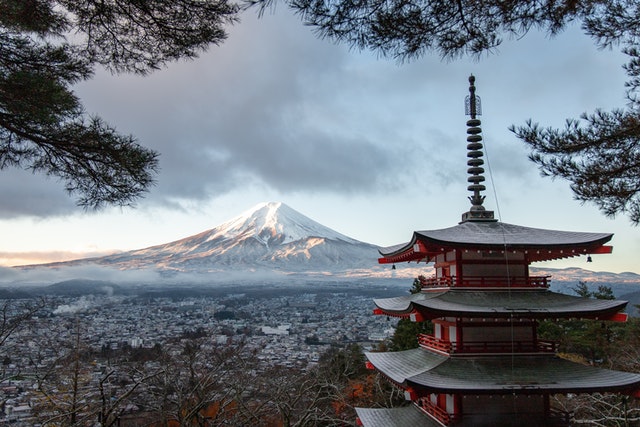 3. Meiji Shrine
The Meiji Shrine is dedicated to the deified spirits of Emperor Meiji and his wife, Empress Shoken. Built in 1920, it is surrounded by a spacious forested park that will take your breath away. Visitors can see many traditional Japanese architectural features and learn about the history of the Meiji period, a time of great transformation and modernization that lasted from 1868 to 1912 and saw the arrival of western technology and culture.
 4. Nikko Toshogu Shrine
This shrine is located in the city of Nikko and is dedicated to Tokugawa Ieyasu, the founder of the Tokugawa Shogunate. The shrine is famous for its highly ornate architecture and, like Mt. Fuji, it is a UNESCO World Heritage Site. Visitors can also see the mausoleum of Tokugawa Ieyasu and the tombs of other members of the Tokugawa family, the powerful Japanese feudal clan led by Ieyasu that ruled over Japan from 1603 until 1868.
5. Hiroshima Peace Memorial Park
If you are interested in History, the Hiroshima Peace Memorial Park is a must. Located in the city of Hiroshima, this historical park is dedicated to the victims of the atomic bombing of the city in 1945. The site includes the Atomic Bomb Dome, the only structure that remained standing near the hypocenter of the blast, and a museum that documents the history of the bombing and its aftermath.
6. Itsukushima Shrine
This shrine is located on Miyajima Island in Hiroshima Bay. It is famous for its "floating" torii gate, which appears to be floating on the water when the tide is high. The shrine complex also includes several buildings that have been designated as UNESCO World Heritage Sites. In addition, visitors can enjoy views of the Seto Inland Sea and the nearby mountains from the shrine grounds.
7. Kinkaku-ji
This temple, also known as the Temple of the Golden Pavilion, is a Buddhist temple located in Kyoto. The temple was built in 1397 and is famous for its ornate gold-leafed exterior. It is set in a beautiful garden with a pond that reflects the image of the pavilion. Kinkaku-ji is a wonderful spot for those who are interested in Buddhism, which is one of the main religions in Japan.
*Other famous Buddhist temples in Japan include Todai-ji (the Great Eastern Temple) in Nara, and Senso-ji (the Asakusa Kannon Temple) in Tokyo.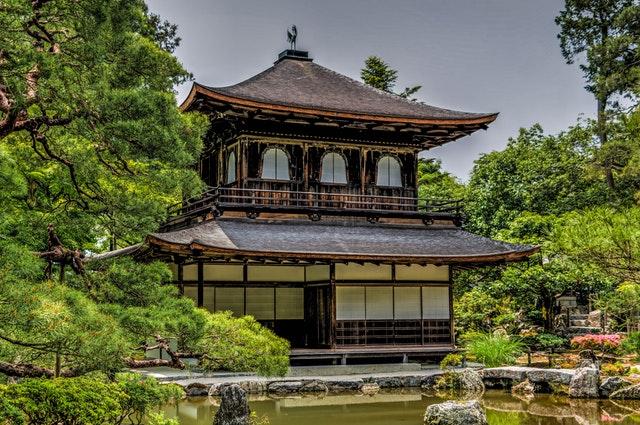 8. Fushimi Inari Shrine
Located in Kyoto, the Fushimi Inari Shrine is dedicated to Inari, the Shinto god of rice. The shrine is famous for its thousands of vermillion torii gates that lead up the mountain behind the shrine complex. Visitors can hike to the top of the mountain for views of Kyoto and the surrounding area. The shrine is also a popular spot for foxes, which are considered to be Inari's messengers, and you may see some of these cute creatures roaming around the grounds.
9. Himeji Castle
This castle is located in the city of Himeji and is one of Japan's most famous constructions. Originally built in 1346, it was destroyed by fire in 1575. The current castle complex was rebuilt in the early 1600s and is considered to be one of the finest examples of Japanese feudal architecture. The castle has been used as a filming location for several movies, including James Bond's "You Only Live Twice" and "The Last Samurai." There are guided visits available in English all around the year, and visitors can also explore the castle grounds on their own.
10. Gion
This is a traditional district of Kyoto that is famous for its geisha culture.  Geishas are women who are trained in the arts of dance, music, and conversation, and they are traditionally used as entertainers for men. In Gion, visitors can stroll down the streets and catch a glimpse of these elaborately-dressed women as they make their way to appointments with clients. Apart from learning about this fascinating aspect of Japanese culture, visitors can buy traditional Japanese arts and crafts and visit the numerous restaurants and tea houses in the area that offer traditional Japanese cuisine and tea ceremonies.
From historical parks and temples to districts that are famous for their geisha culture, there is something for everyone in this amazing country. No matter which spot you visit next, there is something else you can start doing now to have a much richer, more meaningful experience in Japan… and that is to learn some basic Japanese.
→Sign Up Now: Free Trial Japanese Lesson With a Native Teacher!←
By studying Japanese with one of our personalized courses, you will acquire all the linguistic skills that a tourist needs to get by in this fascinating country and, as a result, you will have more genuine, rewarding interactions while you're on holiday.
Send us a message now and we'll pair you up with one of our native Japanese tutors for a free trial lesson!