5 Reasons to Visit Italy in the Winter
As the fifth most visited country in the world, Italy has a record amount of 47 million visitors per year, and the majority of these intrepid travelers tend to prefer the republic during the summer months when the sun is out and the weather is warm.
However, if you are heading to Italy during the winter, there's certainly no reason to despair. In fact, you can have just as much fun, if not more, during those chilly months of the year! So what are you waiting for? Whether you're moving to Italy during the winter or simply paying this country a short visit, be sure to take a look at these 5 reasons why Italy is a great place to be in the wintertime:
1. Italy is cheaper during low season.
As with any country you go to, if you travel during the low season, prices decrease substantially. Italy's low winter season lasts from November to March which gives you six months to take advantage of your cash going farther! Consider that the cost of a top-tier five star hotel in Rome in January will cost you around US$220 per night, while the same establishment will run you around US$290 per night during Italy's peak season in May. And, with exception of holidays, during the winter months you can find cheap bargain flights which head all around the country and allow you to see a lot more for less!
2. Italy is at its best during the winter holidays.
Historically, Italy has some of the closest ties to religious holidays, such as Christmas. If you're hanging out in any Italian city during this time of the year, you won't be disappointed. Italians love going all out for Christmas and New Year's and you'll see elaborate decorations, nativity scenes, and lights throughout the country. If you're a particularly big fan of Christmas decorations, Naples is known around the world for its Christmas-themed creations. Local artists in Naples turn out in droves to create unique renditions of the typical Christmas nativity scene during the holiday season. It's something that you won't want to miss, and you'll never forget!
3. Italy is the home of Carnevale.
Being able to take part in Carnival celebrations is a major reason to look forward to traveling to Italy in the winter. The first place you should head to? Venice, of course! In true traditional style, this bridge-linked city is the main attraction when celebrating the Italian holiday. However, wherever you are in the country during Carnevale, you'll have a good time, as the entire nation rises up for revelry during the holiday. Head to the Tuscan coast to see the biggest Carnevale celebrations in the country, take in the magnificent flower floats in Sicily, or give the longest running Carnevale in Puglia a try. With so much going on, you'll be happy that you didn't save your trip for summer!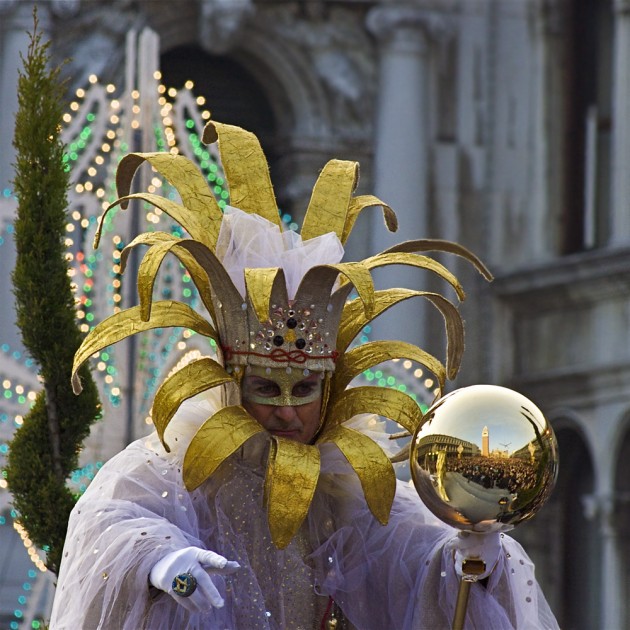 4. Italy's attractions are easier to see.
If cheap prices and wonderful winter celebrations aren't enough to draw you to Italy in the winter, then perhaps the summer's long queues and irritating crowds may convince you otherwise. In the summer, elbowing your way into the Sistine Chapel, Coliseum, or any other attraction for that matter, can be a sweaty test of your patience. In winter, tourism falls so drastically that many times you won't even have to wait in line to see that coveted main attraction, you can just walk right in! Being able to see Rome's superb historical sites without being jabbed and jostled by masses of tourists will make your trip that much more relaxing and enjoyable.
5. Italy's famous winter treats.
Foodies around the globe tend to see Italy as having one of the top three best, and most famous, cuisines in the world. Making a trip to Italy just to enjoy the food is a trip well worth it. But isn't the cuisine similar between the summer and winter months, you might ask? Well, although Italy's famed staple dishes like pasta and pizza can indeed be found year-round, there are a few tasty treats that you'll only be able to enjoy in the winter. Pasta e ceci (pasta and chickpeas) and minestra (vegetable and pasta soup) are two dishes which Italians only serve up when the weather is chilly. And if you've got something of a sweet tooth, try out Panettone ( bread with raisins and citrus peels) along with a cup of Italian hot chocolate – both of which only make an appearance during the winter months!
Italy in the winter definitely takes on a magic of its own whether you're sampling tasty treats, taking in the sights, or simply enjoying the Christmas lights. You can't go wrong when choosing to visit this rich nation in the winter months, but you can go wrong if you don't give its wonderful culture the respect it deserves.
Only 34% of Italy's citizens speak some English, so developing your Italian language skills will not only be reverential to the culture, but will make getting around a lot easier. Take a free online placement test to brush up on your Italian or sign up for some excellent language classes before heading to this great European nation. With the right language skills under your belt you're sure to make the right impression and be more than ready to say "Buongiorno" to the Italian way of life!