Five Minute Guide to Tokyo
In a city as expansive and crowded as Tokyo, it isn't hard to get lost in the sea of flashing neon lights. Tokyo has countless neighborhoods to explore and an extensive transport system. It can be hard to know where to start and how to get around, especially if you are a novice in the Japanese language. If you are visiting the bustling capital of Japan for a few days or a few weeks, you'll enjoy your trip a lot more with this five minute guide to Tokyo.
Neighborhoods
It is almost shocking to discover the amount of diverse neighborhoods. There is a neighborhood for every interest, from fashion and shopping to technology and gaming. There are three major neighborhoods that are known worldwide for various reasons. You might have seen images of Shibuya and its 6 way crossing intersection. Hit up its malls, clothing stores, and restaurants for a crazy people watching scene. For high-end shops and the ritzy side of Tokyo, head to Ginza. If you are a techie, Akihabara is the electronic lovers paradise.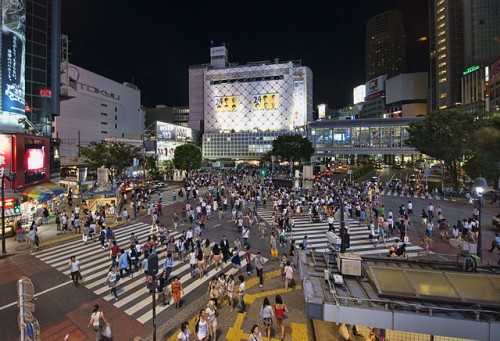 Photo of Shibuya Crossing via chensiyuan / Wikipedia
Transportation
Tokyo is a complicated maze of trains, subways, buses, and taxis. Many public transportation signs are conveniently in English, but you should definitely brush up on your Kanji skills! Fares are charged by the amount you are travelling, so make sure to check the transportation maps in the stations to see what the exact fare is for your destination. You can buy single tickets in the exact fare, or purchase a Suica card to load an amount of yen to pay as you go. Shinkansen bullet trains are also convenient to travel to other major destinations in Japan.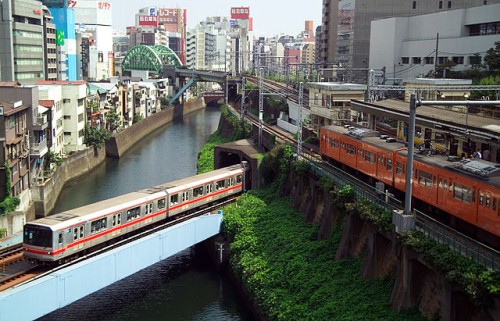 Photo of Tokyo Transport via Fg2 / Wikipedia
Seasons
Tokyo's spring cherry blossom season is probably the best time to visit. Enjoy outdoor picnics under the cherry blossom trees and soak up the strong island sunlight. Summers can get hot and humid and winters are quite cold, although generally without snowfall. To escape summertime heat, head an hour outside of Tokyo to the coast at Kamakura on the weekends.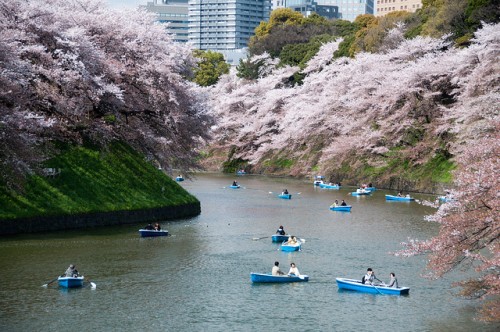 Photo of Japanese Cherry Blossoms via kanegen /Flickr
Language
Although English is taught in grade schools, most Japanese are too shy to actually speak English to a foreigner.  Focus on necessary Japanese phrases, so you can order at a restaurant or ask for directions. If you are looking to immerse yourself in the culture and talk to locals in Tokyo, it is highly recommended to take Japanese level test before your trip. Be sure to check out Language Trainer's Japanese courses for the best option available for you! Make sure to use your language skills to buy a typical Harajuku girl outfit!