Be a Spanish Festival-Goer for Life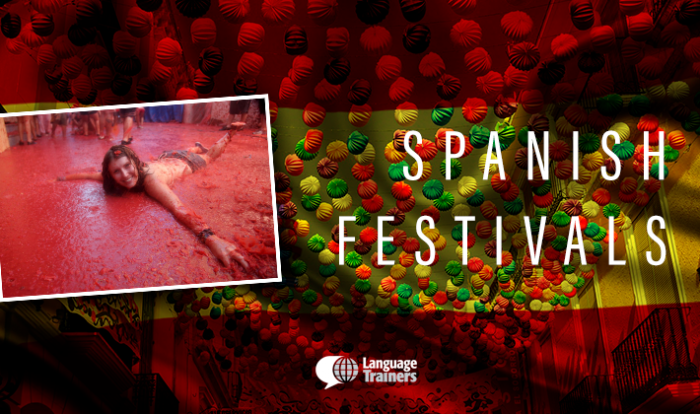 There is an undeniable truth that Spain has a strong command of festivals and food. A country that is viewed as unique for taking a 3-hour long siestas or naps in the middle of the day (not actually true in many areas of Spain) is also unique because they certainly know how to throw a cultural-themed festival like no other country. Each comunidad, or province, in Spain has several festivals that they celebrate each year, and within these comunidades each pueblo, or town, has their own unique festival. Combine that with national holidays and you can see why the Spaniards are renowned for having an abundance of holidays and festivities. Let's peruse a few of these festivals and learn where Spain received its fame for holidays.
Las Fallas in Valencia is a festival that takes place March 15-19 and is a celebration of Saint Joseph. The parade showcases cardboard papier mâché structures of political satire that are lit on fire at the end of every festival; Las Fallas is the name of the entire festival and parade. Preparation for the festival takes place throughout the year as each neighbourhood has a casa faller, or organiser, that raises money for the event through fundraisers and dinners.The papier mâché life-size artisan structures are called ninots and are placed in key parts throughout the city before the parade and are created by sought-after artists. People dress in traditional casal faller dress as well as regional costumes. Additionally fireworks are heard throughout the festival as kids and adults throw firecrackers on the street.s. Then finally at 12 midnight the falles are burnt in effigy as people watch and dance in wonder.
Carnival in Cadiz
If you're looking for a theatrical party in the streets the carnival in Cadiz will be well-worth the wait. The streets are lined with seafood stalls and dancing and singing can be heard in the streets along with parades and costumes! The festival is celebrated over two weeks and is constantly in the mind of the Cadiz population because there are contests and rehearsals that take place all year long. There are several types of singing groups that you will become familiar with while walking through the Cadiz streets: there are the comparasas who sing with wit and satire, then the chrigiotas who are joyful singers, and there are choirs who are groups of singers that travel through the streets in wagons and play flutes and guitars, to name a few. You will notice people wearing unique attire and listening to numerous groups singing parodies with clever songs and very memorable lyrics.
Feria de Sevilla
Sevilla is one of the most traditional Spanish cities, home to incredible tapas, or small meals, and beautiful architecture. It is visited by travellers near and far looking for what the heart of Andalusia has to offer. One way to experience Sevilla is through the feria in Sevilla that occurs in April. People wear traditional Sevillano costumes and eat traditional food for 6 days following semana santa, or Holy Week. The fair begins with carriages filled with Sevilla's elite as they make their way to the bullring and the fairgrounds that are decorated by casetas or tents that belong to prominent clubs, political parties and trade unions; the party begins at 9 at night and doesn't stop till 6 or 7 in the morning. Originally the fair was organised as a livestock trading post but changed into a full flown festival when private casetas were created.
Fiestas de Gracia in Barcelona
Fiestas de Gracia in Barcelona is a festival that also takes it to the streets. This festival is memorable because the streets are filled with colourful balloons and are organised by the Gracia neighbourhood, added to Barcelona in 1897, located in the northwestern part of the city. The purpose of this festival is to create communal activities for the residents and includes activities for kids as well as adults like: parades, concerts, balcony decorations and even acrobatic human towers, a Catalan tradition. This street festival although appears solely for the neighborhood of Gracia has numerous outside visitors.
Galicia's Festividade do Apóstolo Santiago
Or, the Santiago Apostle Festival commemorates the Feast day of Saint James the Apostle, who is the patron saint of Galicia. Santiago de Compostela is not only a saint but the name of a city in Galicia where on July 25th and the days leading up to it there are special masses, dances and traditional music honouring the life and times of Saint James. The façade of the Santiago de Compostela cathedral has a unique component. It is made of igneous rock so when it is the sun shines on it the result is very colourful. This city is also home to "El Camino de Santiago" where people leave from around the world to make this historic pilgrimage, some leaving from Jaen, a Southern city in Spain to arrive to Santiago, which is 1217 km.
As you can see the Spanish are notorious for having a good time for a reason. What makes a good Spanish festival? Answer: large papier mâché heads in a parade, fire, singing and dancing in the streets and regional cuisine. Ready to experience Spain?