Favourite snacks from around the world: Spain
When you're getting yourself into the perfect study mindset, if you're anything like us, snacks are involved. Having snacks to hand can be a form of reward for getting through a difficult section, or something to keep your hands (and mouth) busy with when you're rereading something confusing—depending on the snack. We're imagining you throwing M&Ms between your hands, not tossing a pancake like a frisbee, but you do you. Snacks can also be a part of your studies, especially if you choose snacks from overseas. Not sure what we mean? Here are some favorite snacks from Spain and how to incorporate them into your Spanish learning.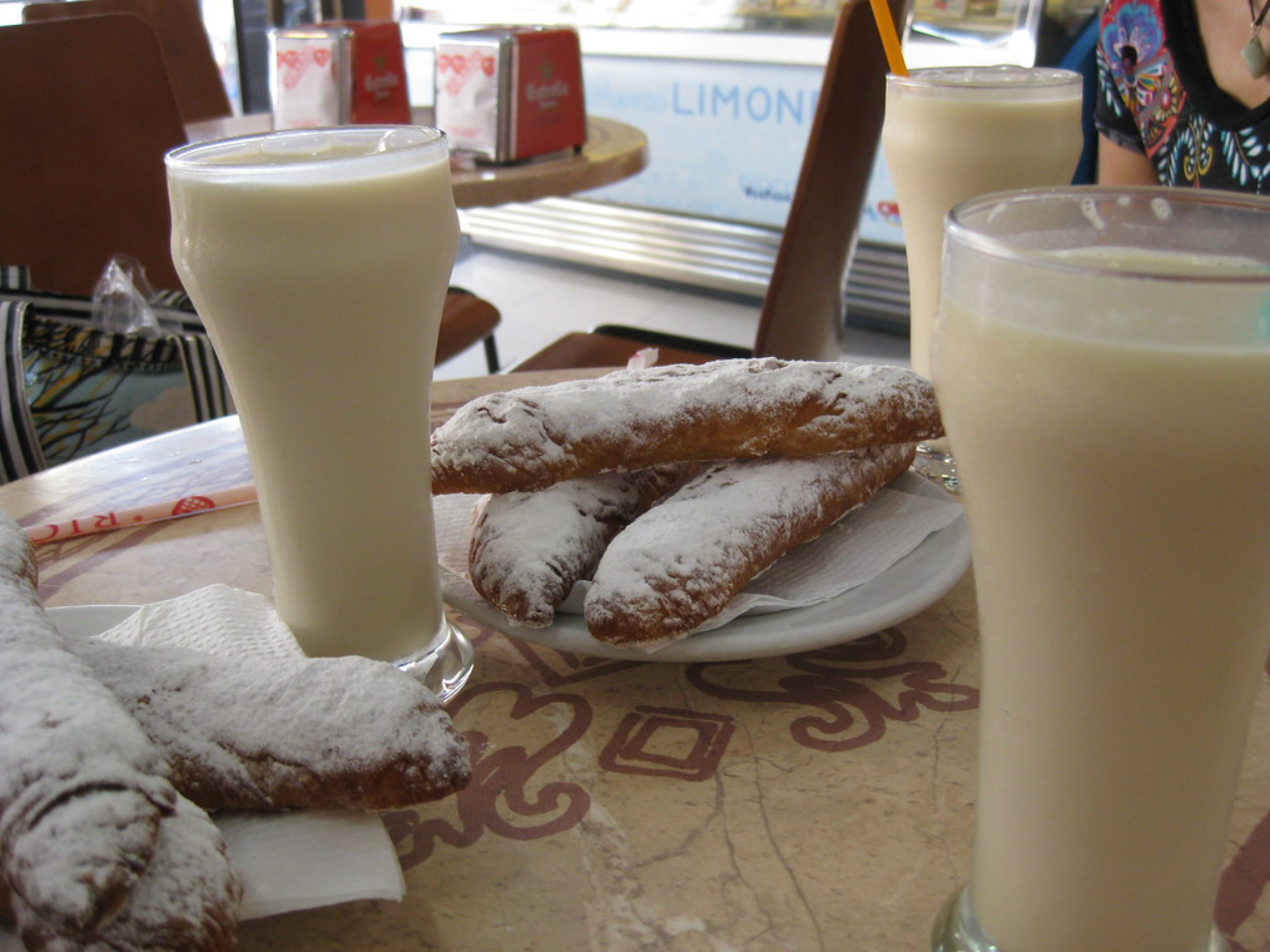 Horchata con fartons
Go on, get the giggle out the way for the word fartons; it is not what you think at all! Horchata is a refreshing iced drink made from plant milk, the contents of which varies around Spain. The basic recipe involves a blend of rice, cinnamon, and almonds. In Valencia in particular, horchata de chufa is made from tiger nuts. Horchata is served with fartons which are a kind of pastry glazed with sugar that originate from the Valencian town of Alboraya. The key to enjoying horchata con fartons is to dunk the pastry into the drink. Now, making horchata as part of your Spanish lesson might be a little much considering a lot of recipes call for the ingredients to be soaked overnight. But you can prepare horchata in advance and then make your fartons to dip! How does that help you learn Spanish? By following a recipe in Spanish of course! You will learn vocabulary, cooking instructions, and probably a little history of the humble farton while you're at it! Happy reading (and eating)!
Churros con chocolate
While we're on the subject of snacks involving dipping, churros con chocolate are a must to discuss! In the simplest of terms, this is a long thin doughnut and hot chocolate, but churros con chocolate are really so much more. The churro is a light and crisp fried dough pastry made into stick shapes and generally sprinkled in sugar. The chocolate for this particular treat is gloopy, pudding-like and rich. It is quite the combination; you will often find churros con chocolate on stalls in a number of cities around breakfast time, or during celebrations like Fallas. So for your Spanish lesson, here is a recipe for churros con chocolate plus a Spanish article on Fallas so you can imagine stuffing your face eating these sweet treats while watching the fireworks.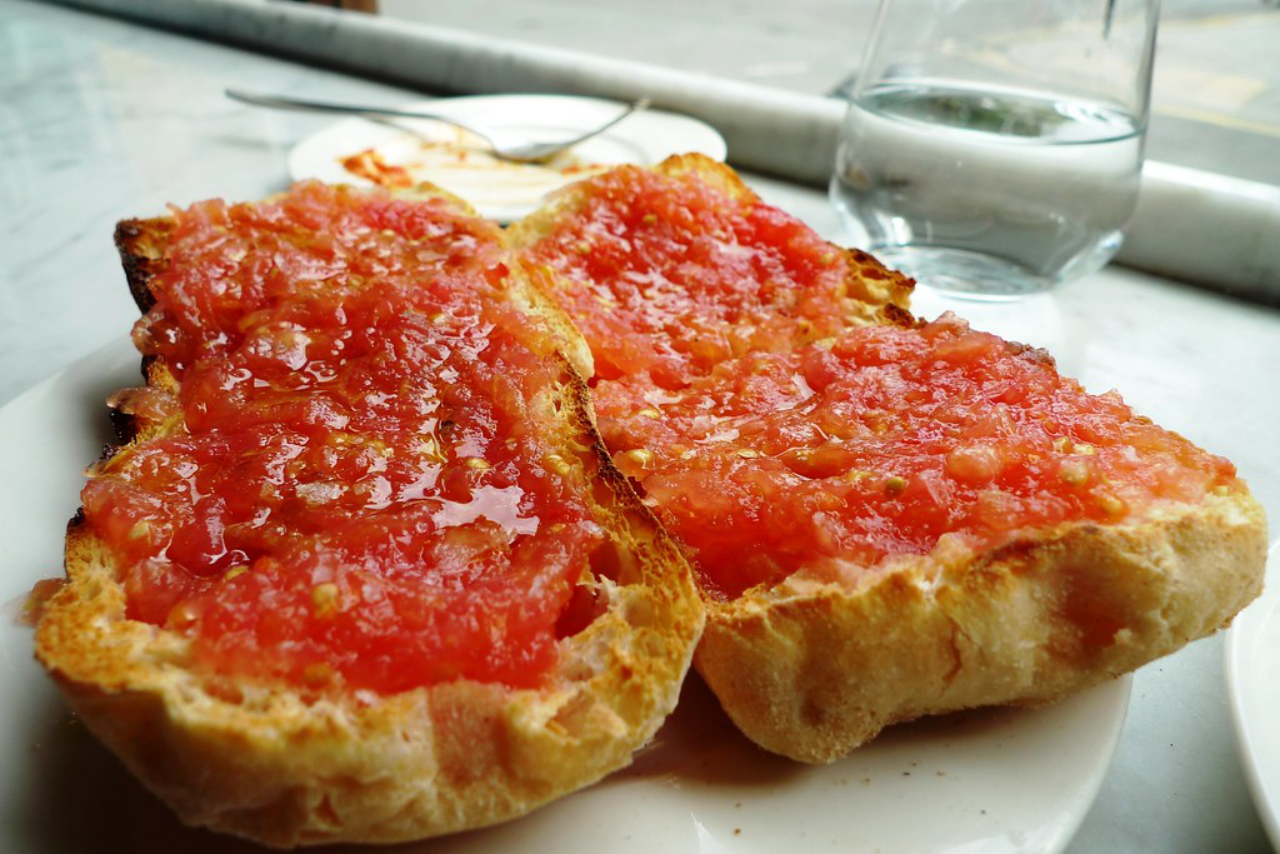 Pan con tomate
Okay, now on to something both savoury and simple. Pan con tomate is really as easy as it sounds — bread with tomato. Of course, for good pan con tomate, you need a good, toastable bread, and the tomatoes must be juicy and served with olive oil, garlic, and salt. Pan con tomate is an all-day kind of snack that some have for desayuno (breakfast) and others for their merienda (afternoon snack). Yes, there is even a recete for this easy to put together dish! Though here is also an article on the history of the noble pan con tomate to give you even more Spanish to practice with.
Napolitana de Chocolate
Napolitana de Chocolate are a staple in the bakery section of all Spanish supermarkets and displayed at the counters of every panaderia. These are rectangles of puff pastry stuffed with chocolate, closely resembling the pain au chocolate from France. Here is a recipe for you to try, in Spanish, naturally. Here is an article on Spain's answer to Bake Off if all this talk of baking has inspired you to learn more!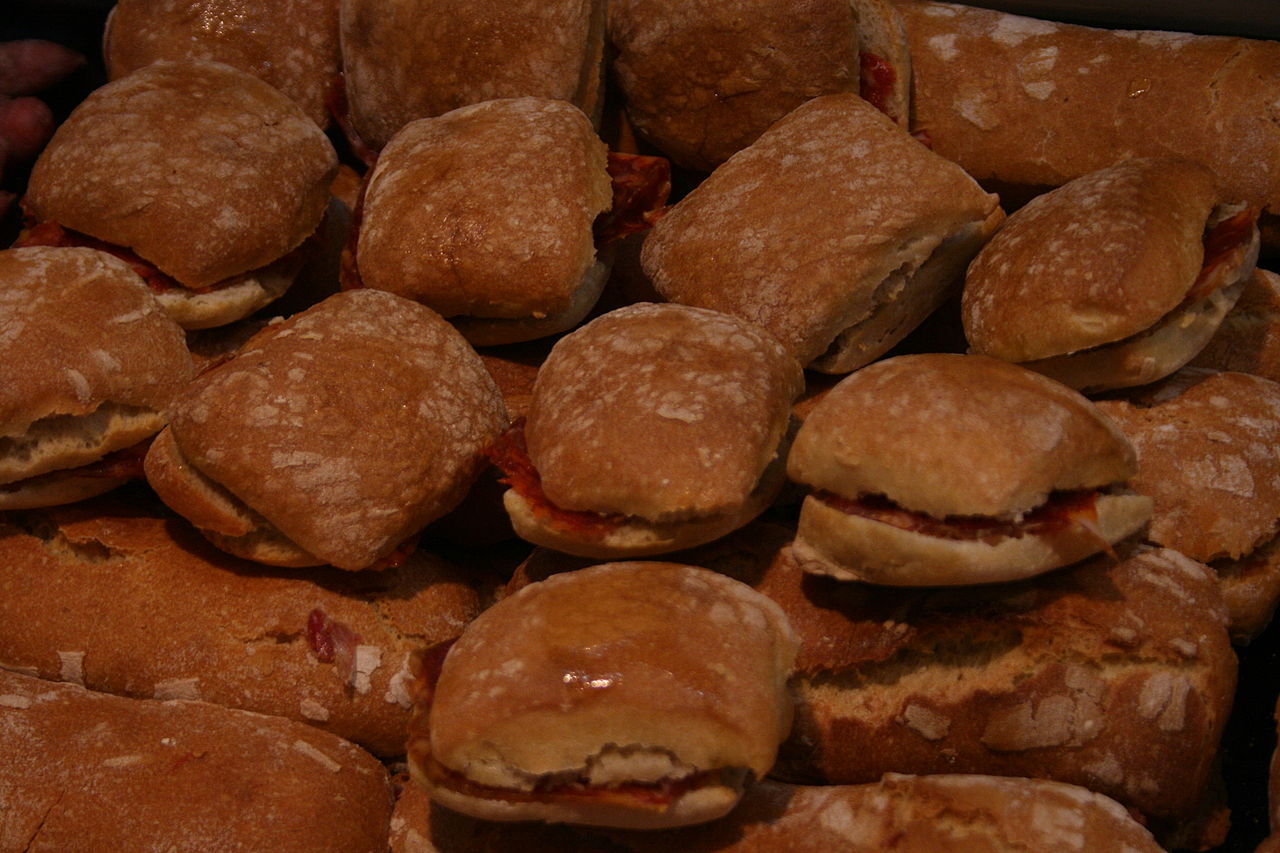 Bocadillos
Our final choice of Spanish snack is the most versatile and simple of all. Bocadillos are sandwiches, principally; who doesn't love a good sandwich? Bocadillos are baguettes sliced lengthwise then filled with jamón, queso, tomate, and whatever else takes your fancy. Here is a short history of bocadillos for you to practice your Spanish with.
Hungry yet? We know we are! If all these snack suggestions have distracted you from studying, we are sorry! Get back to it! Though if you are looking for a little guidance with your studies, we can help you with that. Our native-speaking tutors can design a tailormade programme of study to suit your individual needs. Drop us a quick enquiry to see how our courses work.