Applying for a Job in Germany? Top 3 Tips To Ace Your Interview
With a yearly average wage of 49,952 Euros, seeking out employment in Germany can be a very enticing prospect to people who speak the language. But did you know that Germany has the 14th largest native labor force in the world? This means that no matter what industry you apply for, you are going to have some pretty hefty competition in getting the job whether from the local populace or from your fellow travelers. If you would like to get a leg up on the competition, and score a great job as a result, read through all of the tips below.
Punctuality Is Incredibly Important
Every culture has their quirks. However, some of Germany's customs and attitudes may be a bit of an obstacle to some people. One of these is Germany's emphasis on punctuality. Punctuality is incredibly important to the German people, and being late will be a very poor start to your interview.
In fact, if you really want to show them that you are interested in the job, you should show up 10 or 15 minutes early. It will convey how interested you are in the job, and that you're willing to go above and beyond to secure a position with the company.
Formal Interviews Are The Norm
Interviews in Germany can seem very stiff and formal to people who haven't had firsthand experience with the culture. As opposed to most interviews in the U.S. that are more friendly, in Germany you should address the person hiring to you by their formal title (Herr, Frau, Doktor etc.) and should be expected to be referred to by your preferred title as well.
After you both get acquainted, your interview will likely skip straight to the meat of the interview. This is to be expected, so don't be shocked if they don't seem to be interested in small-talk or getting to know more about you outside of a professional capacity.
Also, be sure to dress well. Men should wear a suit and tie, while women should wear a tailored suit or a conservatively cut dress. You don't have to pull out all the stops here, just try and look presentable.
Relevant Documents Should Be Gathered Beforehand
In Germany, employers often require more documentation from their workers than in the U.S. Before applying for a job in Germany, make sure that you either have, or can easily obtain, the following documents and information:
      Copies of both your school and university diplomas.
      A resume listing all of your previous work experience.
      Your contact information.
      A listing of your hobbies (while this has been largely phased out in a lot of countries, it's still quite common in Germany as they use it to get an idea of who you are as a person).
      Proof of professional training and/or titles.
      References from previous employers.
      A copy of your passport photo placed in the upper right corner of your CV.
      Samples from a work portfolio.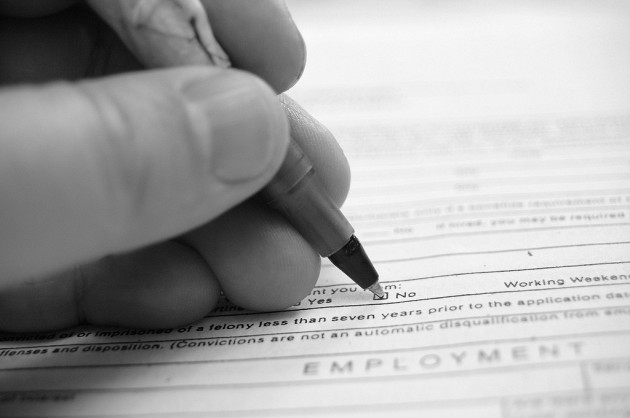 Unless you are choosing to apply for a position that doesn't require you to have a functional understanding of the language, all of your documents should be in German. If necessary, have a German speaking friend or colleague look over the documents to make sure that they are error free.
Applying for a job in a foreign country can definitely be a nerve wracking experience. With the information listed above, you will be more prepared for your upcoming interview with a German company. Invest in language courses, and feel more confident as you embark on this journey into Germany's professional sector. Get started today by taking a free online German level test, then contact Language Trainers to find out about tailor-made German courses in your city.